KSCSTE has decided to organise the following three Memorial Lectures as a prelude to 35th KSC  
Dr. P.K. Gopalakrishnan Memorial Lecture
Date : 07 February 2023
Venue : KSCSTE HQ's Auditorium
Time : 3 p.m.
Prof Jiju P Alex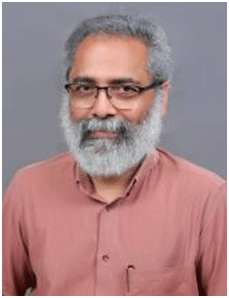 Prof (Dr.) Jiju P Alex teaches at the Kerala Agricultural University. He was formerly Director of Extension of the university. He graduated from the Kerala Agricultural University and got his doctoral degree from the Indian Agricultural Research Institute, New Delhi. He started his career as a scientist with the Indian Council of Agricultural Research (Agricultural Research Service) and moved on to Kerala Agricultural University. He also served the Information Kerala Mission as the head of its human resource development division on deputation. He has vast experience in subjects viz. agriculture and rural development, democratic decentralisation, technology- society interface, innovation management, entrepreneurship development, human resource development and e- governance. He was instrumental in designing the training methodology of the e- governance programmes of local self-government institutions. He has led several research projects and published on the above topics, guided PhD students and participated in many national and international conferences. He is a member of the Board of Management of the Kerala Bank. He has also served as member of the academic/policy level committees of many academic institutions in the country. At the State Planning Board, he deals with decentralisation, housing and art and culture.
Dr. P T BHASKARA PANICKER MEMORIAL LECTURE
Date: 17 January 2023
Venue: KSCSTE-KFRI,
Thrissur
Speaker: Prof. C. P. Aravindakshan
Renowned Science communicator & Former Principal, Govt. Women's college, Thiruvananthapuram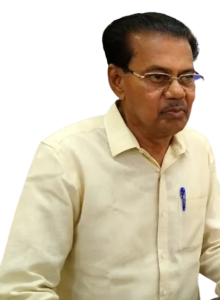 Dr. C.P. Aravindakshan was former      Principal, Government College for Women, Trivandrum. Though he retired in the year 1996 as Principal, he still continues his academic activities as a committed science teacher. He is a graduate of Madras University and took his post-graduate degree from Banaras Hindu University. He worked for a long period in heterocyclic chemistry along with Dr. C.P Joshua former HOD of Chemistry, University of Kerala and took his Ph.D. from Kerala University. He was a member of Senate, University Kerala; Chairman, Board of Studies and member of various academic bodies of Govt. of India and as well as Govt. of Kerala. After retirement, he served Ministry of HRD, Govt.of India as Director, Sharmik Vidyapeeth and thereafter he joined corporation of Trivandrum as Director, Computer Training center and served for another five years. He is known more in the field of "Popularization of Science".  Currently, he is associated with various child development programmes. Also, he is a resource person and faculty in many Government supported education, development and training programmes. Dr. C.P Aravindakshan has won the prestigious Science Literature Award 2013 (Children's literature category) instituted by the Kerala State Council for Science, Technology and Environment. He was the Chairman of the state Level Academic Committee of National Children's Science Congress for three Years. Dr. C.P Aravindakshan has travelled extensively and visited many Research Centres and Universities at Africa, Europe, U.K, China, Russia, and USA
Dr. EK JANAKI AMMAL MEMORIAL
LECTURE Date:03 February 2023
Venue: KSCSTE-MBGIPS,
Kozhikode
Speaker: Dr. A. William Jebadhas
Principal Scientist (Retd.) ICAR-Sugarcane Breeding Institute Coimbatore
Dr. A. William Jebadhas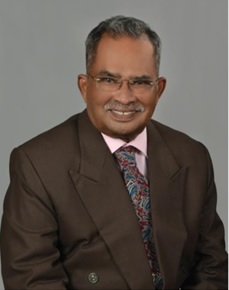 After a stint in teaching, William Jebadhas did his post-graduation in Botany from the Annamalai University, Tamil Nadu and joined the Sugarcane Breeding Institute, ICAR, Coimbatore in 1972. He  had completed Ph.D. in Botany from the University of Madras in 1981 under the guidance of Dr. E.K. Janaki Ammal, for the thesis entitled "Ethnobotanical Studies on some Hill Tribes of South India". His major contributions were in the field of exploration, collection, maintenance and utilization of sugarcane genetic resources, mutation breeding, and development of sugarcane varieties for the subtropics and East coast of India. Published articles on sugarcane genetic resources, biodiversity, ethnobotany, and cultural anthropology of the Nilgiris tribes in reputed national and international journals, and edited books. Dr. Jebadhas served the ICAR in Sugarcane Breeding Institute over 34 years in cytogenetics, and retired as Principal Scientist in 2006.